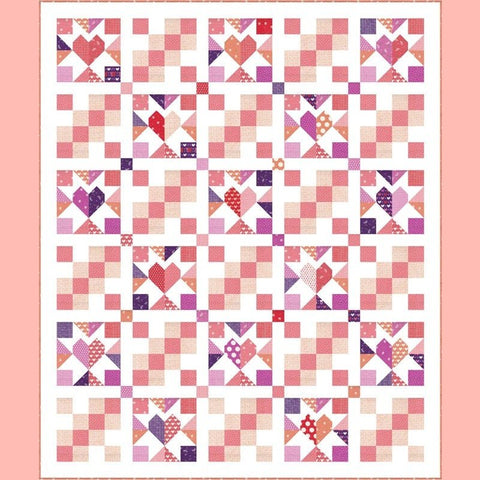 Sincerely Yours Good Hearted By Sherri & Chelsi Pre Cut Moda fabric KIT37610 (50'' X 60'')
$ 247.97

$ 247.97

Save

$ 49.59
---
---
Need Help? Email: customercare@thefabrichut.com
Discover the charm of the Sincerely Yours Quilt Kit by Sherri & Chelsi, brought to you by Moda Fabric. This kit is designed to create a warm and inviting quilt that's perfect for snuggling up on the couch or adding a splash of color to your bedroom.
Materials & Dimensions:
Primary Fiber: 100% Cotton
Width: 50 inches
Length: 60 inches
Finished Quilt Size: 50" x 60"
Kit Contents:
Fabric: The kit includes all the necessary fabric for the quilt top and binding, featuring the vibrant and fresh designs of Sherri & Chelsi.
Pattern: A user-friendly pattern with easy-to-follow instructions is provided, ensuring a smooth quilting experience from start to finish.
Additional Information:
Fabric Quality: All the fabric used in this quilt is by Blank Quilting, known for its high-quality cotton and colorfastness.
End Product: A cozy 50" x 60" quilt that's a perfect addition to any quilt collection or as a thoughtful gift.
Please Note:
Batting is not included in the kit.
The Sincerely Yours Quilt Kit is an excellent choice for quilters looking for a project that combines contemporary design with classic comfort.
Our Guarantees:
100% SATISFACTION GUARANTEED: If you are not 100% satisfied with your purchase just let us know and we will give you a full refund. Returns include free return shipping, no restocking fee is charged.
BEST PRICE GUARANTEE: Find a cheaper similar product within 24 hours of placing your order, and we'll give you twice the difference.