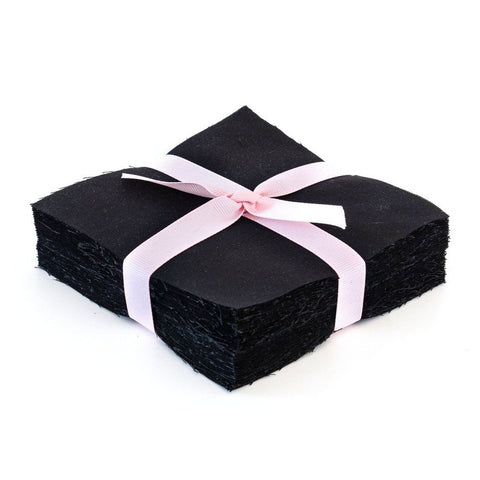 100 Pure Black Moda pre cut charm pack 5" squares 100% cotton fabric quilt
$ 38.97

$ 38.97

Save

$ 7.79
---
---
Need Help? Email: customercare@thefabrichut.com
We're thrilled to unveil a new addition that's an absolute essential for every quilter's collection – the "Solid Black Pre-Cut 5" Squares." These timeless black squares are the versatile building blocks for your quilting projects, and they've been expertly prepared to make your quilting journey smoother than ever.
Product Highlights:
Materials: Crafted from high-quality primary fiber, 100% Cotton.
Dimensions: Each square is precisely cut to a convenient 5 inches in both width and length.
Contents: This essential bundle includes 100 pre-cut 5" x 5" squares. These solid black squares are a versatile addition to your quilting materials and serve as the perfect complement to any quilt project.
Quality Assurance: We've taken care of all the cutting work, ensuring that every square is cut precisely, allowing you to start sewing right away.
Generous Quantity: With a total of 100 squares in this bundle, you'll have an abundance of black fabric at your disposal, providing endless creative possibilities.
Premium Fabric: All squares are made from top-quality 100% cotton quilt shop fabric, guaranteeing the finest material for your quilting endeavors.
Clean and Smoke-Free: Our products are sourced from a smoke-free environment, ensuring that your fabric arrives in excellent condition.
These pre-cut black squares are the ideal foundation for a wide range of quilting designs, adding a touch of elegance and versatility to your projects. Whether you're looking to create striking contrast or incorporate a timeless element, these squares are a must-have.
Swift Shipping:
We understand your eagerness to start your quilting projects, which is why we offer fast and reliable shipping. Expect to receive your bundle within a few days of your order, so you can begin your creative journey without delay.
If you have any questions or require assistance, please don't hesitate to reach out. We're here to support your quilting endeavors at every step.
Elevate your quilting experience with the "Solid Black Pre-Cut 5" Squares." These meticulously prepared, high-quality fabric squares are the foundation for your next quilting masterpiece. Get started on your quilting journey today!
Our Guarantees:
100% SATISFACTION GUARANTEED: If you are not 100% satisfied with your purchase just let us know and we will give you a full refund. Returns include free return shipping, no restocking fee is charged.
BEST PRICE GUARANTEE: Find a cheaper similar product within 24 hours of placing your order, and we'll give you twice the difference.