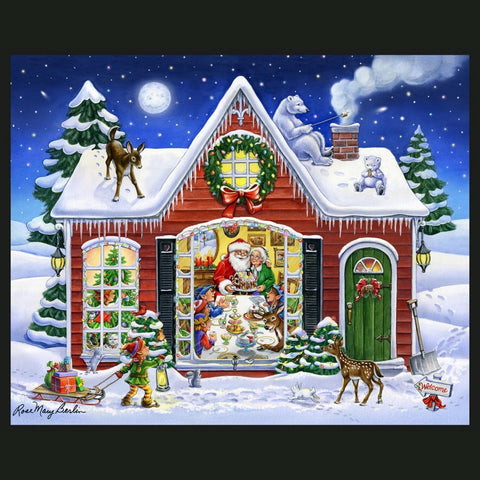 Santa's House Digital Panel cotton quilt fabric Christmas Santa Scene 36" X 45"
$ 19.97

$ 19.97

Save

$ 3.99
---
---
Need Help? Email: customercare@thefabrichut.com
Elevate your holiday crafting with the "Santa's House" Digital Fabric Panel, a delightful addition to your quilting and sewing projects. This charming Christmas quilt panel measures 36 inches in width by 44 inches in length, providing you with the perfect centerpiece for a quilt top or wall hanging.
Crafted from high-quality name brand quilting fabric, this panel features 100% cotton material known for its comfort and durability. The fabric selections are carefully curated to ensure the best results for your creations.
All materials used in this panel are sourced from a smoke-free store, guaranteeing a fresh and pristine quality. Fast shipping is assured, with your order shipped via USPS first class and accompanied by delivery confirmation. You can expect your purchase to arrive at your doorstep within 3 days of ordering, so you can start your holiday-themed project promptly.
For any questions or assistance, the seller is readily available to provide support and guidance, ensuring a seamless experience for your crafting endeavors.
Product Details:
Width: 44/45 inches
Length: 36 inches
Material: 100% Cotton Quilt Shop Fabric
Design: Santa's House Digital Fabric Panel
Features:
The "Santa's House" panel is perfect for creating stunning Christmas quilts or wall hangings.
Crafted from top-quality name brand quilting fabric, featuring 100% cotton for comfort and durability.
All materials come from a smoke-free store, ensuring freshness and cleanliness.
Fast shipping via USPS first class with delivery confirmation, with an estimated delivery time of 3 days.
The seller is available to assist with any questions or concerns.
Our Guarantees:
100% SATISFACTION GUARANTEED: If you are not 100% satisfied with your purchase just let us know and we will give you a full refund. Returns include free return shipping, no restocking fee is charged.
BEST PRICE GUARANTEE: Find a cheaper similar product within 24 hours of placing your order, and we'll give you twice the difference.