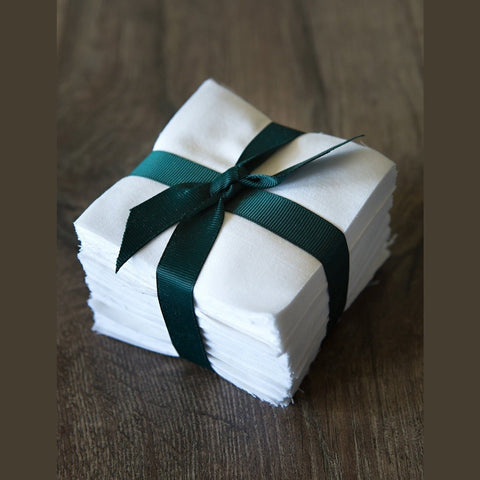 100 Pure White Solid precut charm pack 3.5 inch squares quilt fabric Kona White
$ 35.97

$ 35.97

Save

$ 7.19
---
---
Need Help? Email: customercare@thefabrichut.com
"
Enhance your quilting projects with these stunning PURE WHITE Moda Bella Solids 3.5 inch squares. This set of precisely machine-cut squares includes 100 squares in total, each measuring 3.5 X 3.5 inches. Whether you're working on quilts, scrappy projects, or the beloved prairie quilt pattern, these squares are perfect for achieving precision and adding a touch of elegance to your creations.
Product Details:
Primary Fiber: Cotton
Width: 3.5 inches
Length: 3.5 inches
Quantity: 100 squares
Color: PURE WHITE Moda Bella Solids
Machine Cut: Ensures precision and accuracy
Suitable for: Quilting, 9 patch projects, scrappy quilts, and more
Features:
High-quality Moda Bella Solids for a clean and elegant look.
Versatile squares suitable for various quilting and crafting projects.
Perfectly machine-cut squares for consistent and flawless results.
Made from 100% cotton Kona PURE WHITE solid quilt shop fabric.
Sourced from a smoke-free store.
Contact the seller if you have any questions or need assistance.
Elevate your quilting projects with these 3.5 inch PURE WHITE Moda Bella Solids squares, designed for precision and versatility in your quilting and crafting endeavors.
"
Our Guarantees:
100% SATISFACTION GUARANTEED: If you are not 100% satisfied with your purchase just let us know and we will give you a full refund. Returns include free return shipping, no restocking fee is charged.
BEST PRICE GUARANTEE: Find a cheaper similar product within 24 hours of placing your order, and we'll give you twice the difference.